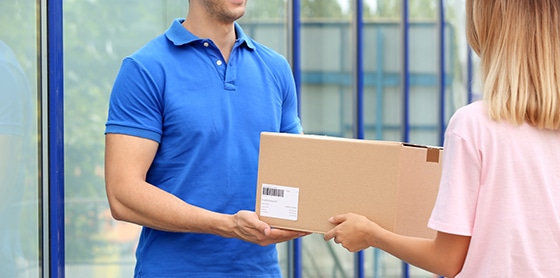 General Information
As our customer, you must ensure that the correct delivery address is entered at checkout or provided to our sales consultants, as parcels that are returned to EcoCare Australia as undeliverable may incur a re-dispatch fee and will be sent back out as regular mail. Any freight charges paid for the original dispatch are not refundable.
EcoCare Australia does not ship internationally.
Bulky Goods
Large items greater than 23L in volume will be shipped by Express Road Service with Star Track Express.
These orders cannot be sent to a PO Box address, it must be a residential or business address with the business name included in the order.
If the Goods are delivered by courier, your parcel will be delivered during normal business hours.
Upon delivery, the goods must be signed for. If a signature cannot be obtained at the time of delivery, a card will be left informing you of how to collect the parcel during normal business hours.
Parcels will be held by the delivery service for their maximum hold time. Should you not respond to a calling card and the parcel is returned to EcoCare Australia as unclaimed, further freight charges may be payable for re-dispatch. Any freight charges paid for the original dispatch are not refundable.
Once the Goods have arrived at EcoCare Australia's warehouse, it may take up to another 3 days for processing and dispatch. Once the order has been shipped, you will receive an email confirmation from the carrier.
All Other Parcels & Products
Depending on the nature of the goods ordered, EcoCare Australia will arrange for delivery of the goods by Australia Post or a courier of our choice.
EcoCare Australia will endeavour to deliver the goods to your nominated delivery address within the time period specified when you place your order however EcoCare Australia will not be liable to you (our customer) or anyone else for any losses suffered or incurred due to delay.
Orders are typically picked and dispatched within 1 day. During peak times, this may vary, and it may take 1-2 days before your order is dispatched.
Standard shipping times are 7-10 business days Australia wide.
Please allow for some delays due to Covid-19, especially to VIC and NSW.
Please allow for a further 3 business days (in addition to the above) for delivery to remote areas as an estimate only.
Please note, delays may occur around Christmas, Easter and public holidays. Remote deliveries are subject to local transport schedules and may encounter extended delays. Please note that that there are limitations on all courier networks and some remote delivery addresses will not be serviced door-to-door. In these cases, the couriers will deliver to a local depot or Australia Post office and you will be contacted to collect your goods. Some remote locations such as islands can only be accessed by boat therefore normal shipping times do not apply.
The delivery dates are estimates only. EcoCare Australia will do all that it can to ensure delivery within the estimated dates, but factors such as public holidays and peak delivery times may not allow this to always be possible. Please note that while Australia Post provides a reliable national service, delivery delays can occur for a variety of reasons. If you are experiencing a longer than usual delay, please first enquire about your missing package at your local post office.
EcoCare Australia reserves the right not to accept an order, or having accepted an order, to cancel an order if it cannot supply the goods within the order.
Any damaged or lost orders are subject to an investigation carried out by the courier company. This investigation can take up to 10 business days and we must allow the courier company to complete their investigation before we can take any further action into the whereabouts of the parcel.
Subject to the terms of any order, if EcoCare Australia cannot supply all items, you will be contacted and the rest of the order will be shipped.
Where an orders size exceeds packaging restrictions, the order may be sent in multiple parcels with multiple tracking numbers. Due to this the complete order may not arrive at the same time.
Shipping Charges
For all customers with an Australian delivery address, we have FREE standard shipping on orders $75 and over. For all orders under $75, a standard shipping rate of $12.50 will apply to your order.
You will be able to see the freight costs at the checkout stage, before finalising your payment.
Damaged Deliveries
Subject to our Returns Policy, EcoCare Australia will take all reasonable care to appropriately pack all orders, but will not be liable or responsible for any damaged goods or missing orders lost in transit.
Risk Title In The Goods
Subject to payment, property and risk in the goods passed to the customer upon delivery of the goods to the customer's nominated delivery address, anyone at the customer's nominated delivery address who receives the goods shall be presumed by EcoCare Australia to be authorised to receive the goods.
Free Shipping
Free standard shipping applies to orders $75 and over made within Australia, excluding gift card purchases, bulky and flammable items. Orders under $75 will incur a $12.50 fee for standard shipping.
Free standard shipping is subject to change at EcoCare Australia's discretion.
Interpretation
In these terms and conditions:
"Account" means the personalised account created by the Customer on the Website enabling the Order of Goods.
"Agreement" means these terms and conditions, including the terms of any Order placed by the Customer through the Website (if applicable).
"Business days" means business days in Perth, Australia.
"EcoCare" or "EcoCare Australia" means Insight Environmental Pty Ltd ACN 080 561 842 trading as EcoCare Australia.
"Customer" means any person or persons who wish to or have used the website to place an Order.
"Goods" means any products described in an Order and includes packaging.
"Intellectual Property" means all rights in patent, copyright, trade names, trademarks, logos, designs, images (including photographs, videos, multimedia or films) or service marks (in each case whether registered or registrable).
"Material" means any information (including but not limited to data, source codes, and drawings) or images in any form (whether visible or not) stored on or used in connection with the Website.
"Order" means a request submitted by the Customer to purchase Goods from EcoCare Australia through the Website.
"Website" means the internet site located at www.ecocare.com.au operated by EcoCare Australia.
Any reference in this Agreement to the singular includes the plural, to any gender including all genders, to any act or statute includes any act or statute which supersedes, replaces or modifies any earlier act or statute, to persons includes all bodies and associations both corporate and incorporated and vice versa, paragraph headings are for reference purposes only and all references to clauses are to clauses in this Agreement unless otherwise specified.
All references to dollar amounts are references to Australian Dollars (AUD).