If your septic system or AWTS is performing poorly it can certainly be repaired, but it's best to be sure of what's wrong with it before embarking down the route of expensive repairs and costly callouts.
The first and most important thing to determine is whether your system is performing poorly because of a biological problem or a physical problem. Biological problems are to do with the beneficial bacteria your system needs to digest waste and can be fixed quickly and easily. Whereas physical problems are to do with your system's tank, pump, baffles or leach field and can run into the thousands.
Biological Repair
The optimal function of your wastewater system revolves around beneficial bacteria that produce enzymes to break up waste into smaller particles which the bacteria then digest. Without sufficient populations of these beneficial bacteria your system will perform poorly and odours and blockages will soon follow.
This is the most common reason for septic systems or AWTS to have odours or blockages but is easily solved. Biological stimulant based wastewater treatment products allow beneficial bacteria to rapidly repopulate to effective levels and will restore your system's optimal biological conditions.
If your system requires the addition of bacteria you can add specialty bacteria cultures which are used to kickstart your system.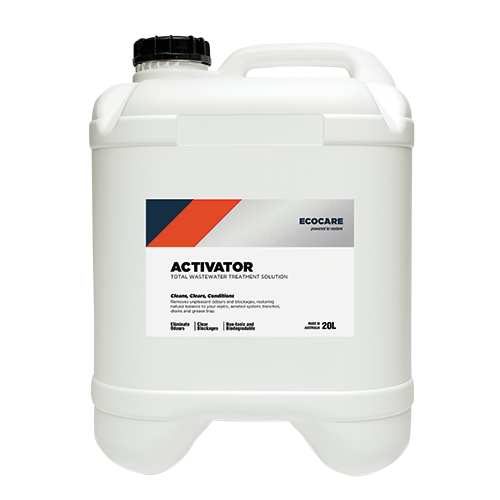 EcoCare Activator is used to quickly restore and maintain healthy populations of beneficial bacteria within your system and ensure that it stays at peak performance.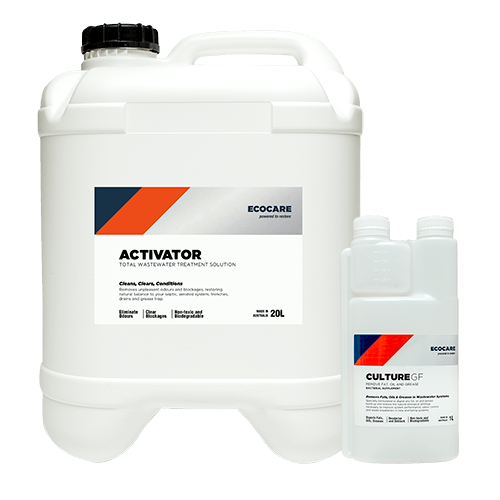 The LD Kit is used to repair the biological conditions and unblock your leach drain. It contains our biological stimulants along with specialty bacteria to digest grease and fats which are a common cause of leach drain blockages.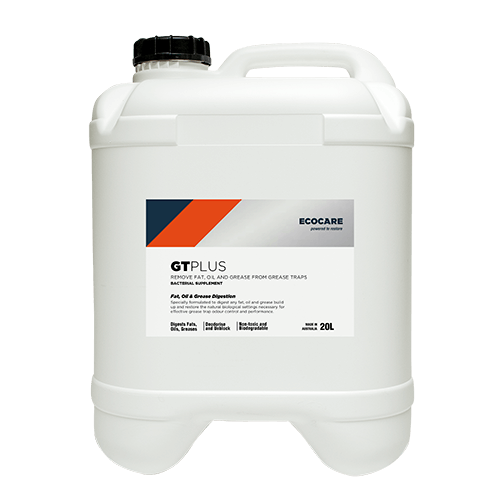 GT Plus introduces specialty bacteria which digest the waste in your grease trap – effectively turning it from a holding tank into a treatment unit.
Physical Repair
If you've determined that the problem with your system is not biological, then you likely have a physical problem with one or more components of your system.
The most common physical issues are to do with the following system components:
Pipes/Lines
Baffles
Tanks
Pumps
Filters
Leach field
Repairing or replacing system components should be a last resort as the costs can range from the hundreds to tens of thousands.
To find out more about how we can guarantee your system gets back to peak performance, please get in touch with us. Here are what some of our happy, long-term customers are saying.
We have been using the product for over 15 years in our septic system and have had our system pumped out once in all that time and were told our system was the cleanest they had ever had to service.

Gerry Kelly
I love it, I clean everything with it. We have been using it for 11 years and only pumped out once, we where told it was so healthy.

Michelle Wright
We have two septic systems, both treated with EcoCare. Systems have remained trouble free and have not required to be pumped out since we started using the product 12 years ago.. An excellent product.

Bryant Ham
Provides the result that we hope for quickly and easily. No mess, no fuss, no smell, in fact the smell from our grease trap disappears. Our system has not been pumped out a decade or more.

Larry Greetham
What our customers are saying on Google
I have had huge problems with the structure of my tanks. The damage could not be repaired quickly and I needed help with the tanks to keep them able to... read more cope with the large load that we had at the time. I can say the service I received was fabulous. I can also say that the products worked perfectly to cope with some seriously crazy issues over our peak times. Well worth using!!!! Thanks again for your help xxx

Amanda Barnes


February 9, 2021

We have been dealing with Ecocare now for several years. We had a very smelly problem with our septic system. Our Ecocare consultant was extremely helpful, always followed up on... read more her advice with a phone call. Until we solved the problem we definitely recommend Ecocare for your septic system.

Graham Green


November 19, 2020

I was struggling with my septic system when I first moved here from the city. EcoCare helped me with advice, and then the Activator product. I used the... read more product for some years, very successfully, got complacent, but I have recently started using it again. I am so happy with the product that I won't ever get complacent again.

Lynn Takayama


November 15, 2020

We have used Activator at home for many years and are very happy with is performance. We trialled the laundry detergent for the last couple months and also found it performed... read more well, removes odours and dirt from all types of clothing. We have been always very satisfied with the customer service. Thankyou EcoCare.

GARY LENKEIT


September 20, 2020

I was recommended these products and so ordered them online and sent an email seeking extra information. I received a call back and the assistance and advice I got was... read more absolutely awesome. Friendly, knowledgeable and extremely helpful. I would not hesitate in recommending them.

Marnie Hamersley-Smith


June 16, 2020