Solve your commercial grease trap issues quickly and easily
If you're looking to unblock a grease trap at home, please click here.
There's only one reason grease traps smell, get blocked or need to be pumped out more frequently than they should – they aren't able to handle the amount of waste entering them. This could be because the grease trap is too small, but is more likely because the waste inside the grease trap isn't being broken down which causes it to fill up too quickly, smell and cause blockages.
If your grease trap is blocked, smells or needs to be pumped out too frequently, you have two options:
Install a larger grease trap
This may solve your issue but it's expensive, time consuming and disruptive to your business.


Use an additive to treat waste inside your grease trap
Adding specialised bacteria to your grease trap will let it first capture waste and then actively digest it within the grease trap. This means there's less waste buildup within your grease trap, less frequent pump outs and no more bad smells.

Jump to buying options.
Get twice the usage out of your grease trap with GT Plus
EcoCare GT Plus
EcoCare GT Plus contains a blend of selective fat and grease digesting bacteria which rapidly multiply and digest the waste in your grease trap without any chemicals added. This will keep your grease trap, drain lines and pipes clear and odourless, preventing blockages further down and improving the performance of your grease trap.
Businesses across Australia use EcoCare GT Plus because:
Reduces odours affecting staff and patrons
Breaks down blockages and build up of fats, oils and greases
Improves the condition of grease traps
Long term economic benefits of reduced pump outs
Scientifically developed and environmentally responsible
Fast-acting and simple to use
Cost-effective and long-lasting
Non-hazardous
We are an award-winning café-restaurant, between Townsville and Ingham. We used to have problems with blockages and we had to get it pumped out about six times a year! Now that we use Ecocare we only get it pumped out once a year… Using your product has saved us the inconvenience and costs of fixing blocked drains and pump outs…

Alf Poefinger, Owner Frosty Mango Cafe
GT Plus Buying Options
Choose from our our fully automated or manual dosing options. If you'd like to speak with a consultant for advice, more information or a tailored solution, leave an enquiry or call us on 1800 633 866.
EcoCare GT Plus 5L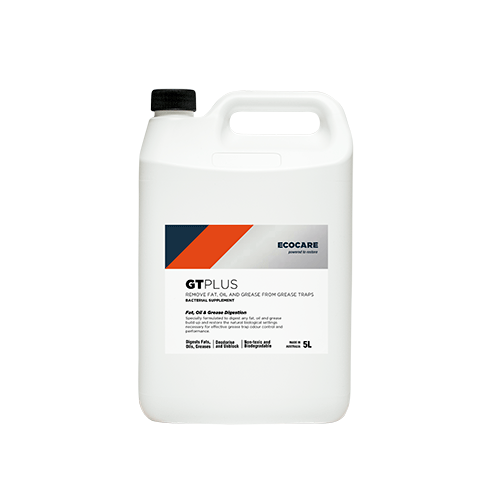 $120.00
Free Shipping
Test out our product. Restore your grease trap's performance quickly and easily.
At least 1 month of improved grease trap performance.
EcoCare GT Plus 20L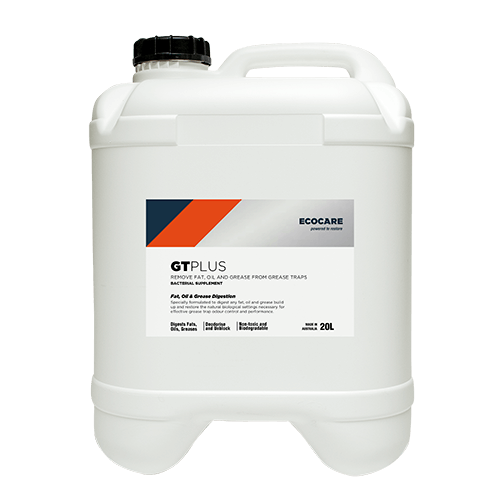 $390.00
Free Shipping
Our most economical package, more than 6 months of improved grease trap performance.
Manual dosing of EcoCare GT Plus is quick and easy with our simple instructions.
EcoCare GT Plus 20L
Automated Dosing System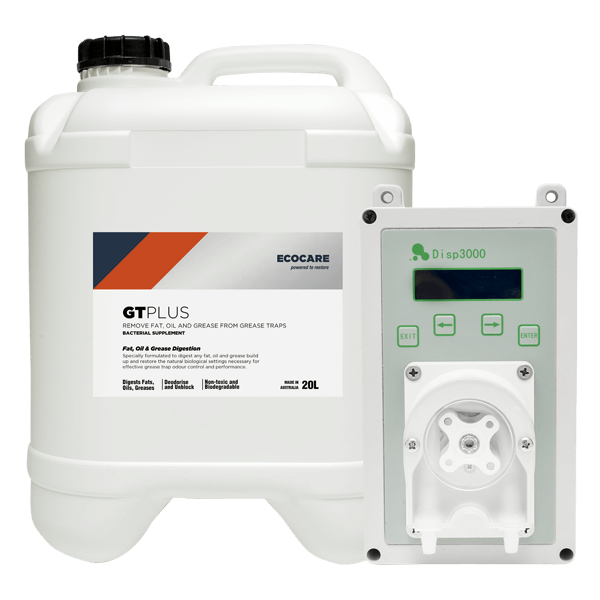 $938.00
Free Shipping
More than 6 months of improved grease trap performance without lifting a finger.
Our Automated Dosing System ensures your grease trap is dosed with the right amount, on time, for consistent performance.