A quick and effective solution for septic blockages
If you're experiencing blockages in your septic or AWTS, EcoCare Activator is the proven solution used by thousands of homes to keep their wastewater system running smoothly. Our septic treatment products are used to remove blockages, eliminate odours and improve system performance across Australia in the harshest of conditions.
EcoCare Activator can solve these issues quickly and cost effectively. All our solutions are environmentally friendly so you can rest easy that you are creating a safe and healthy environment for you and your family.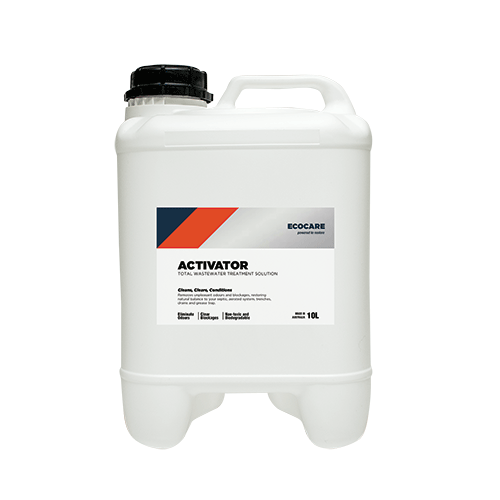 What makes our products different?
Most septic, AWTS or greywater treatment products add bacteria or enzymes to get rid of blockages caused by low bacteria populations. While we do provide specialty bacteria, we know that the underlying cause of most wastewater issues is poor biological conditions within the system that kill the bacteria necessary for waste breakdown.
EcoCare's Biological Stimulant Technology introduces select nutrients, minerals and amino acids that improve the biological conditions, overcome the damage caused by everyday household chemicals and allow beneficial bacteria to maintain healthy populations. This is what allows septic systems to operate at peak performance, removes blockages and minimises the need for pump outs and expensive repairs.
EcoCare is unique. It provides exceptional products with personalised, friendly and prompt service. I could not fault my interaction with them. Our septic system had always been smelly, even after pump out. I came across EcoCare and tried their products. They even gave specific individual advice. Problem solved. Four (4) years later still no problems and no pump out needed. Thank you. Vic

Vic Mac
I can highly recommend this company, they take the time to understand your personal situation and then problem solve to come up with the best solution customised to suit your needs.great customer service,great products and I would use them again.

Vicki Freelander
We have two septic systems, both treated with EcoCare. Systems have remained trouble free and have not required to be pumped out since we started using the product 12 years ago.. An excellent product.

Bryant Ham
I have had huge problems with the structure of my tanks. The damage could not be repaired quickly and I needed help with the tanks to keep them able to cope with the large load that we had at the time. I can say the service I received was fabulous. I can also say that the products worked perfectly to cope with some seriously crazy issues over our peak times. Well worth using!!!! Thanks again for your help xxx

Amanda Barnes
Righting the wrongs of modern living.
Today septics have to cope with a lot more than the inventor ever intended.
Septic systems and other onsite treatment systems rely on the action of naturally occurring bacteria to break down waste. However, harsh chemical-based cleaners, non-biodegradable detergents and certain medications can quickly kill off good bacteria and upset the balance of your system.
With too few bacteria, or the wrong type, your systems efficiency drops dramatically. Bad smells develop, waste is left undigested, and blockages and expensive pump outs become more frequent. You might even have to renew your leach drain or absorption trench – and that can be very expensive.
No need for a plumber – it's so easy to use!
Quick, safe and simple to use, the fastest way to solve septic problems with EcoCare Activator is simply to pour the recommended dosage into the sink, down the toilet or into your washbasin, bath or shower.
EcoCare Activator goes to work at once. As it moves through the pipes it softens and breaks down built-up residues, transforming grease and fat into small globules that can be easily digested by naturally occurring bacteria. The unique blend of nutrients and bacterial stimulants in EcoCare Activator then go to work to ensure that natures own 'good' bacteria have everything they need to thrive. Blockages are removed, the breakdown of waste material is accelerated, bad smells and odours disappear and proper drainage is restored in leach drains and the surrounding soil. It really is that simple!
Free Shipping Australia-wide
We deliver to your door Australia wide within days – for Free! All our product comes with full, tailored, instructions and we are always here to help you in any way needed.
Different sizes to suits your needs.
Our products come as convenient liquid concentrates and in a range of sizes, depending on your needs with the larger sizes attracting significant discounts. For example, for an average household septic or treatment system we would recommend our more economical 10 or 20 litre container.
What our customers are saying on Google
I have had huge problems with the structure of my tanks. The damage could not be repaired quickly and I needed help with the tanks to keep them able to... read more cope with the large load that we had at the time. I can say the service I received was fabulous. I can also say that the products worked perfectly to cope with some seriously crazy issues over our peak times. Well worth using!!!! Thanks again for your help xxx

Amanda Barnes


February 9, 2021

We have been dealing with Ecocare now for several years. We had a very smelly problem with our septic system. Our Ecocare consultant was extremely helpful, always followed up on... read more her advice with a phone call. Until we solved the problem we definitely recommend Ecocare for your septic system.

Graham Green


November 19, 2020

I was struggling with my septic system when I first moved here from the city. EcoCare helped me with advice, and then the Activator product. I used the... read more product for some years, very successfully, got complacent, but I have recently started using it again. I am so happy with the product that I won't ever get complacent again.

Lynn Takayama


November 15, 2020

We have used Activator at home for many years and are very happy with is performance. We trialled the laundry detergent for the last couple months and also found it performed... read more well, removes odours and dirt from all types of clothing. We have been always very satisfied with the customer service. Thankyou EcoCare.

GARY LENKEIT


September 20, 2020

I was recommended these products and so ordered them online and sent an email seeking extra information. I received a call back and the assistance and advice I got was... read more absolutely awesome. Friendly, knowledgeable and extremely helpful. I would not hesitate in recommending them.

Marnie Hamersley-Smith


June 16, 2020